Blog
Submitted by: placementsol - 2-Dec-2016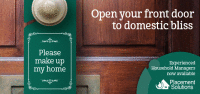 Have you only ever heard of Cleaners and Housekeepers and wondering what differentiates a Household Manager to these services? Let us explain this for you.
...
read more
Submitted by: placementsol - 31-Jul-2016

One of our most misunderstood services, often forgotten in the focus on in-home child care, is the provision of Household Managers. As we have a number of very satisfied customers who use this service, we thought it might be time to give these hardworking people some attention.
It can be hard to describe what a Household Manager can do because there are just so many options.
...
read more