Blog
Submitted by: marketing - 11-Mar-2015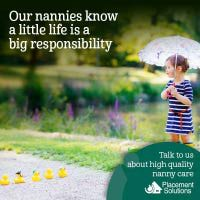 Top 10 Tips for a Successful Application to a Nanny Agency
So you've decided to try and get a job with a nannying agency. Perhaps you're just starting out, or you're tired of going it alone, or things aren't working out with your current agency. Either way, there are some basic things you can do to improve your chances of a successful application. Here are 10 things we like – and which, sadly, are often overlooked by applicants.
...
read more
Submitted by: marketing - 25-Nov-2014
I know I've written about this before, but the imminent report to government of the Productivity Commission inquiry into future options for child care and early childhood learning has had me thinking about the issue again: the problem of the 'underground' cash-in-hand in-home child care industry.
...
read more
Submitted by: marketing - 18-Nov-2014
PLACEMENT SOLUTIONS NEWSLETTER – OCTOBER 2014
Reinventing the funding wheel is not the way to improve child care access.
Regular readers of this newsletter will be aware that we have been closely watching the Productivity Commission's Inquiry into Childcare and Early Child Learning. We have also made submissions to the inquiry and appeared before it. The Commission released an draft report earlier this year and will soon release its final report.
...
read more
Submitted by: marketing - 11-Nov-2014
I've just returned from the Nannypalooza conference in Cleveland, Ohio with a head full of new ideas and insights. Nannypalooza is an American organisation dedicated to supporting nannies through education and networking, and I was very grateful to be invited to their conference representing an agency. Very few agencies are involved in this conference as it really is all about the nannies.
...
read more