Blog
Submitted by: placementsol - 18-Sep-2016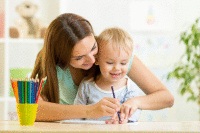 After the thorough screening process within our recruitment department you might go for another interview with our families for them to choose the best match for their family.
Such an interview usually takes place in the family's homes and can be quite scary.
How do you succeed in one of those interviews?
We suggest you use a PEACE approach to your interviews.
...
read more
Submitted by: Evelyn Ogilby - 29-Oct-2015
Of course, all of us understand that looking after children is so important that face-to-face interviews are a necessity for all nannies before they can start a job. These interviews don't need to be with the family directly, agencies have the qualification and staff to thoroughly identify whether the position offered is suitable for you.
Unlike often perceived interviews are not only for the employer. After all it comes from the French s'entrevoir which means to see each other. While the employer will of course see you, you will also see the employer which gives you the chance to get more information on the position and whether you can imagine committing to the job and enjoying your work. In the long run having realistic expectations at the interview and knowing what you want from a job can lead to a more fulfilling work life.
...
read more