Blog
Submitted by: placementsol - 3-May-2017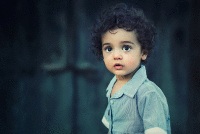 Recently one of our nannies was providing regular respite care to the mother of a young child whose brother had significant special needs, as part of the service we offer to 'families in crisis'. This respite service included providing care to the mother's six-year-old son.
...
read more
Submitted by: placementsol - 24-Oct-2016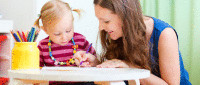 At Placement Solutions we only employ qualified, experienced nannies so you know your children are in expert hands. Our aim is to make sure that all children we care for are safe, happy and healthy. You children are so precious – we understand that – so we take the greatest of care when you put your trust in us. Placement Solutions nannies have a minimum of 3 years experience, have a formal qualification (or are working towards one), they have undergone "Speak Up" training so your child is protected, and of course they all have current Working with Children & Police Checks. In addition, all our nannies have current Level 2 First Aid certificates.
...
read more
Submitted by: placementsol - 10-Jul-2016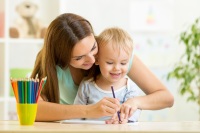 At Placement Solutions we pride ourselves in having the best quality professional nannies. Parents can rest assured and sleep easy at night knowing their children are in safe hands. We strive to always have happy, healthy and most of all safe children on our watch.
...
read more
Submitted by: bdm - 8-Dec-2015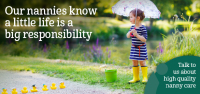 Everyone would love to have a Nanny in their home - that extra pair of hands to help you out. A Nanny can bring a huge amount of assistance and knowledge to your family, as well the advantage of having a one on one interaction regarding your child's development that cannot always happen in a day care setting. We know what you're thinking; "how can I ever afford a nanny?" Well we're here to tell you that this is actually possible for a majority of families. Government assistance and rebates are available to most families and at Placement Solutions we can help you access these facilities.
...
read more
Submitted by: marketing - 12-Mar-2015

If you want to be successful as a nanny, it's important that you are selective when choosing a placement family. Sure, you will rarely have endless choice, but by the same token it is not necessary, or wise, to take the first position that comes up.
The right decision could lead to long term work and the chance to really embed yourself as 'part of the family'. In contrast, a wrong decision could be stressful and disruptive for both you and the family you work for.
...
read more
Submitted by: marketing - 11-Mar-2015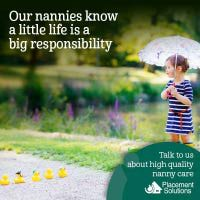 Top 10 Tips for a Successful Application to a Nanny Agency
So you've decided to try and get a job with a nannying agency. Perhaps you're just starting out, or you're tired of going it alone, or things aren't working out with your current agency. Either way, there are some basic things you can do to improve your chances of a successful application. Here are 10 things we like – and which, sadly, are often overlooked by applicants.
...
read more
Submitted by: marketing - 10-Mar-2015

7 Reasons to Nanny Through an Agency Rather than Going it Alone
If you were to believe the nannies portrayed in fiction, the job of the nanny is as simple as child control. A bit of well chosen discipline and everyone will happy, at least by the time the closing credits roll. Unfortunately in the real world things aren't so simple. The nanny's job can be demanding in a number of areas that go well beyond the actual job of caring for young children.
...
read more
Submitted by: marketing - 11-Nov-2014
I've just returned from the Nannypalooza conference in Cleveland, Ohio with a head full of new ideas and insights. Nannypalooza is an American organisation dedicated to supporting nannies through education and networking, and I was very grateful to be invited to their conference representing an agency. Very few agencies are involved in this conference as it really is all about the nannies.
...
read more
Submitted by: marketing - 27-Sep-2014
"No matter someone's background – their education level, their socioeconomic resources, their culture, their religion, their language – no matter what their family looks like in a picture – everybody struggles with parenting."
...
read more
Submitted by: marketing - 24-Sep-2014
I have to admit to feeling quite proud on August 9 when we launched our new Child Protection Policy and accompanying booklet. Institutional Responses to Child Sexual Abuse.
...
read more
Submitted by: louise - 24-Aug-2014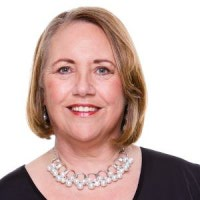 The facts on government funding of Nannies
I would like to clarify a few of the facts relating to Nannies and in-home child care generally.The Productivity Commisssion into childcare are now in their second phase of speaking to the public about the way forward for child care in Australia. I presented at the Commission on behalf of Placement Solutions.
...
read more
Submitted by: webideas - 3-Jun-2014
It was very refreshing to hear the two speakers at our first professional development seminar of the year, which we held last month. Both were down-to-earth and keen to bust some of the myths that have grown up around childcare. Our Melbourned based nannies at Placement Solutions are not just babysitters. We pride ouselves on the professional development we run and the quality of the nannies we attract as a consequence. Better nannies make for better quality childcare all round and the nanny services we offer across Melbourne are exemplary.
...
read more