Blog
Submitted by: placementsol - 29-Dec-2015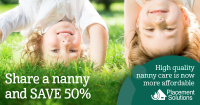 Have you started thinking about going back to work? Have you thought about putting your child into child care? Is there no room? Sounds like something we hear often from a lot of parents that contact us. There seems to be a shortage of child care centres for the ever growing Victorian population. Many parents are turning to in-home child care agencies to help find a solution to their problem.
...
read more
Submitted by: bdm - 8-Dec-2015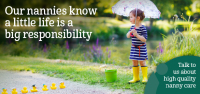 Everyone would love to have a Nanny in their home - that extra pair of hands to help you out. A Nanny can bring a huge amount of assistance and knowledge to your family, as well the advantage of having a one on one interaction regarding your child's development that cannot always happen in a day care setting. We know what you're thinking; "how can I ever afford a nanny?" Well we're here to tell you that this is actually possible for a majority of families. Government assistance and rebates are available to most families and at Placement Solutions we can help you access these facilities.
...
read more