Blog
Submitted by: placementsol - 3-Nov-2015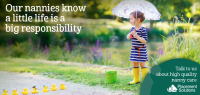 With spring upon us and the sun shining there is no better time to get the kids outside and play in the sunshine. Of course it is important to remember to Slip on a shirt, Slop on the 30+ sunscreen, Slap on a hat, but once that is done get outside and enjoy playing with the kids.
Whether you are a mum, dad, nana, grandpa or the nanny, children love to play outdoors with you and other children, however coming up with new games to play each time can be difficult. We've listed 10 of our favourite games to play that will be fun for the big and little kids!
...
read more
Submitted by: placementsol - 3-Nov-2015
Love your job and the fun that goes together with it when playing with the children, see them develop and grow?
Do they have a favourite toy? A favourite book? Naturally it is great to utilise the material provided by the parents. On the other hand bringing your own material is a great opportunity to introduce the children to something outside the box.
...
read more
Submitted by: louise - 2-Jul-2014
School holidays often provide an excellent opportunity for parents to spend quality time with their children… nevertheless everyone can also go a little stir-crazy!
With their years of experience in entertaining children all day, the nannies (in-home childcarers) at Government-approved agency Placement Solutions have put together their top twelve tips to make the most of school holidays in Melbourne, without going broke.
...
read more