Blog
Submitted by: placementsol - 4-Jan-2016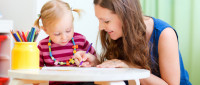 Not all parents can afford to go away for school holidays or maybe one parent can have time off from work but the other can't. Travelling with children can be difficult enough let alone trying to travel with the children without your partner. This being said you don't have to leave the kids feeling bored over the school holidays and that last thing you want is nagging children.

So if school holidays are spent at home then devise a list of activities that you can do with the children, this way you have a plan and the children will have something to look forward to, especially on the down days when they is no activity planned. You can't have an activity every day, money doesn't grow on trees.

To help you out we have developed a list of great holiday activities that can be done with children from different age's groups, especially if you have a toddler or school aged children.


...
read more