Blog
Submitted by: placementsol - 8-Feb-2016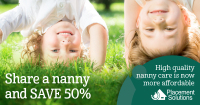 Nanny sharing is a great way to reduce the cost of in-home child care while adding some extra socialisation into your children's day. However it works best when it is approached in the right way. While Placement Solutions keep things 'clean' by invoicing each family separately, holding joint client liaison meetings and so on, there are a number of factors nanny-sharing families should bear in mind.
...
read more
Submitted by: placementsol - 29-Dec-2015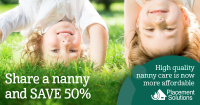 Have you started thinking about going back to work? Have you thought about putting your child into child care? Is there no room? Sounds like something we hear often from a lot of parents that contact us. There seems to be a shortage of child care centres for the ever growing Victorian population. Many parents are turning to in-home child care agencies to help find a solution to their problem.
...
read more