FROM THE DESK OF THE CEO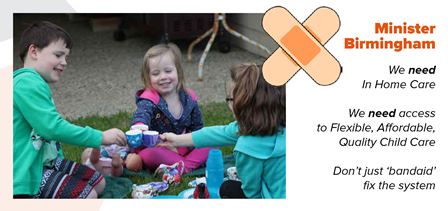 What future for government supported in-home care?
As I've mentioned previously, the federal government has been reviewing the way support is provided to parents to assist with the cost of child care. What we know is that the existing Child Care Benefit (CCB) and Child Care Rebate (CCR) will be replaced by a single Child Care Subsidy from early July 2018.
The new subsidy will be means tested,with a cut off limit at combined incomes of $350,000.00) where the current subsidies are not (though in the case of in-home care they are not open ended – each provider is capped in the number of funded places they can offer). The government claims that the changes will leave child care users on lower incomes better off. Legislation to enact this change is currently being drafted.
Of course our primary concern, along with other members of the Australian Home Childcare Association (AHCA), is the impact the new legislation will have on funding for in-home care. At the moment, this is less than clear.
At the recent AHCA annual conference, a senior representative from the Department of Education (the department responsible for early childhood and child care support) confirmed that the proposed legislation does not incorporate in-home care. She assured us that the government will replace the existing in-home care arrangements, including the now-ceased Nanny Pilot, with some form of assistance for 'care in the family home', but she could not provide any details of how it will work other than that it will be provided under something called 'minister's rules'.
The representative confirmed that the new arrangements will remove government support for occasional care and 'registered' care (approved care by registered individuals such as nannies or those through registered nanny agencies i.e not government approved.
One thing that is clear about the proposed new subsidy system is that it is geared particularly around workforce participation, with support dependent on parents working, training, studying or volunteering for at least eight hours per week.
This does set off some alarm bells for us as it seems to preclude vulnerable families, many of whom are current recipients of funded in-home care places.
People who currently access funded in-home care include those who cannot access mainstream care, whether that be long day care, family day care or outside school hours care. It includes people who work non-standard hours and have three or more children under five (who presumably would pass the 'participation' requirement), but it also supports care and respite to children whose main carer has a chronic illness or whose carer is unable to take the children to school. The carers in these instances often do not work and are not in a situation to be able to participate in the workforce in any meaningful way. It is these people in particular who need to be remembered in the upcoming changes.
So please look out for the postcard and/or email heading your way. Sign and send the card to the minister, or respond to the email, to make sure the minister remembers who child care is really about: the kids.