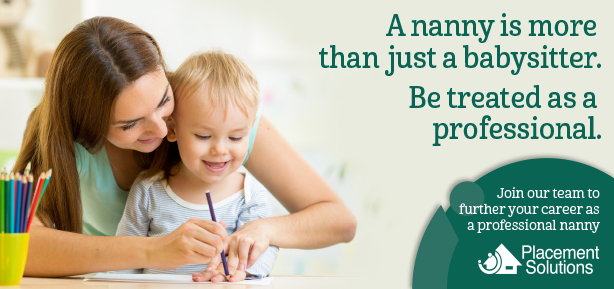 At Placement Solutions, Nannies/Educators are more than just babysitters. If you have integrity, intelligence, energy and emthiasm in all that you do and you find joy in caring for children we want you to join our team right now.
Placement Solutions have been caring for Australia's children since 1988 and are recognised as an world wide industry leader in in-home childcare. Placement Solutions have been an approved Government In-home Care provider since 2001.
We are currently recruiting permanent part time and full-time Nannies/Educators for positions as well as casual Nannies/Educators for weekends and evenings.
The benefits of working with us:
We pay top rates for great Nannies/Educators, with the hourly rate dependent on experience, qualifications and special job requirements i.e. night nannying
We pay you legally and that includes superannuation and workcover.
We match you with the right job the very first time. Our team are on call for back-up and support when you need it, whether it be by phone, appointment, an in-home visit or via our email and texting services; we are always here to help
We screen jobs and conduct in-home checks to make sure we're offering you the best possible working conditions
We take pride in the quality professional development training offered to our Nanny/Educators. Our training ensures that Placement Solutions Nanny/Educators are up to date with the latest childcare theory and practices and that they are switched on, proactive childcare professionals.
All Nanny/Educators are fully employed by either the Agency or the client and receive employment benefits including sick leave, WorkCover and super.
Assistance to obtain further training if required.
We only accept clients that agree to at least mininum award rates and in many cases where the employment is private higher rates may apply for those with superb experience.
Once you are listed with us you need never be out of work again as we can offer you casual work anywhere and any time to fit your needs. A great nanny can always be working.
What are we looking for?
We believe that being a Nanny/Educator is one of the most important jobs there is, and we want to find people committed to the ultimate career of love.
Because you will be working in people's homes and have sole care of their children, all Nanny/Educators must have:
a minimum of 3+ years full time experience, together with verifiable references
current Working with Children Check
a recent Police check and
current Level 2 First Aid Certificate.
Ideally, you will have a current drivers licence and car as well as being a qualified childcare worker.
A commitment of at least 6 months is required for all casual and temporary positions, and you must have the right to work in Australia.
We always need new Nanny/Educators to fill the positions we have available. Contact us today!