AHCA Conference & AGM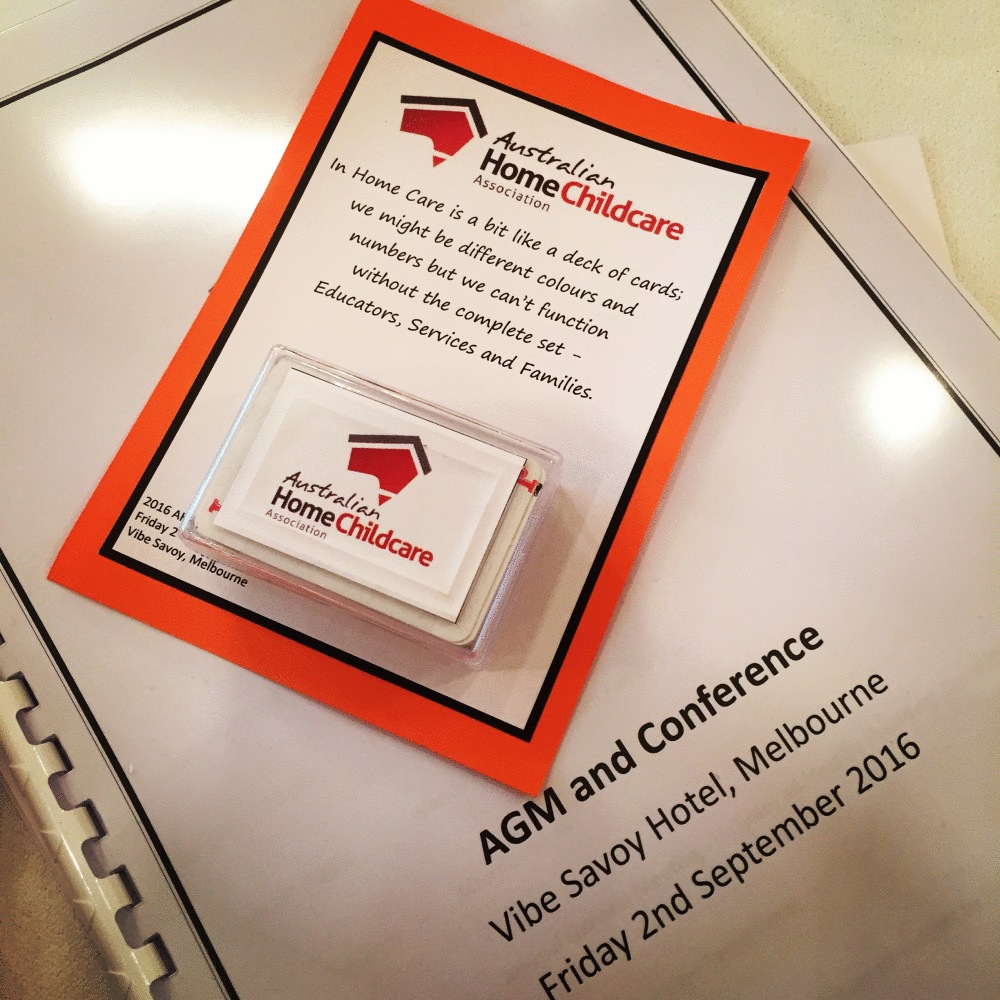 The Australian Home Care Association's (AHCA) annual conference and AGM, with educators, and representatives from in-home child care services travelling from around Australia to attend, was held in Melbourne on Friday the 2nd of September. The attendees had the opportunity of listening to keynote speakers from a range of areas related to the in-home child care sector.
Jason Chambers of Kidsafe spoke of recent changes in legislation in toy safety, as well as updated news on car seat safety regulations and home-safe practices for bathing, sleeping, and indoor and outdoor play in the home. The major take-home advice from Jason's talk came from the actions around the shocking statistics around the effect of button batteries in and around the home. In Australia an estimated of 20 children per week present to an emergency department with an injury related to a button battery. These small batteries can cause severe life-threatening injuries if swallowed by children.
"If swallowed, these coin sized batteries can get stuck in a child's throat- the chemical reaction between saliva and the battery causes and electrical current which can burn through the oesophagus in as little as two hours, causing severe and life threatening injuries".- said Mr Chambers.
The button batteries are found in common household items such as- remote controls, calculators, bathroom scales, car and garage remote keys, singing birthday cards, and flameless candles.
Button battery safety tips
Examine devices and make sure the battery compartment is secure.
Keep coin-sized button batteries locked away out of the sight and reach of children.
Dispose of old button batteries immediately.
If you suspect a child may have swallowed a button battery, go to the hospital emergency department immediately.
Tell others about this threat and share these steps.
Parents and carers can access more information about how to reduce the risk posed by button batteries via www.kidsafevic.com.au/home-safety/button-batteries
Conference attendees also had the pleasure of hearing from Fiona Pattinson of Nature playgroup talk about her passion in the Early Childhood sector, particularly in the natural and less clinical environment of the outdoors. Fiona spoke about the importance and impact of how outdoor and non-structured play stimulated the minds of pre-school aged children. Think mud pies, puddle jumping, puddle-fishing, stick-play, hill climbs etc! Let the children you care for explore their creativity and imaginations with regular outdoor time in nature.
Also included as a keynote speaker, was Wendy Field of the Smith Family 'Let's Count' program. Let's Count, an innovative, and evidence-based program designed to improve the mathematical skills and attitudes of children in the 3-5 year old age range was developed in recognition of the importance of early mathematics for children's long-term wellbeing. Particularly, the scheme aims to support children from disadvantaged backgrounds to develop maths skills, knowledge, and positive dispositions, as they prepare for school. Wendy's talk was a positive reminder of the influence of early learning childhood educators in the home, helping foster the opportunity for children to engage with mathematics as part of their everyday learning.
As always, the AHCA conference was a wonderful day, and a delightful display of enthusiasm and eagerness for the upcoming year in the In-Home Child Care sector. Congratulations to both the leaving and new incoming committee members. Thank you for all the work that you do. Placement Solutions looks forward to another year continuing to support and assist our growing sector, and all the wonderful carers, and providers, who support families with their in-home child care needs around Australia.
Sianan Tierney