Household Managers – What are they and why do I need one?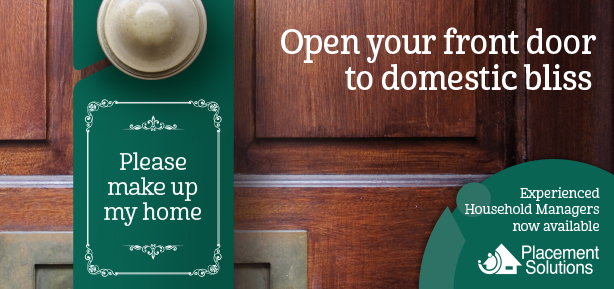 Here at Placement Solutions we regularly receive questions from new clients asking exactly what duties their Household Manager is able to do There is often a confusion between cleaners and housekeepers so we thought we would explain using the DEMA definitions. DEMAis the acronym for the Domestic Estate Managers Association of which we are a proud member.
A Household Manager is somebody who can assist in your home with a broad range of duties to make your life easier. They are a Family Assistant but not a Nanny; manager of all external resources (i.e. gardeners, pool cleaners, nannies, other general home/family related services), they can assist with personal filing/bill organising, home business assistance, house organisation, cleaning, cooking, cooking for the freezer and much, much more! They are also often known as housekeepers but are not cleaners as such
Household Managers come into your life to alleviate the stress of things you do not have the time to do or to think about. They assist with making your day to day life run smoothly and to ensure that you come home to a clean and welcoming house and not a whirlwind of duties!
Why do you need one? If you work fulltime and lead a busy stressful life; if you spend all weekend getting the family cleaned and laundered and sorted for the next working week: if you are not eating as well as you could ; if you spend Sundays attending to your mountain of ironing then you need a hand and you need one to get your life back.
Placement Solutions does all the Recruitment and pre-screening for our clieints to ensure we are finding the best possible fit. We get an idea of what attributes and skills your ideal candidate would possess so that when recruiting we can have this in mind. Because of the close interaction with our clients' families these roles encompass we like to search for somebody specific to your needs as the idea is for them to be with you on a long term basis.
I'll bet right now you are saying how good this sounds, right?! If this sounds like something that is of interest to you, fill in our online contact form with your brief duties, hours and contact details and we will be in touch shortly! Contact forms can be found on our website at www.placementsolutions.com.au/home-management
The Client Services Team