Nannies Rock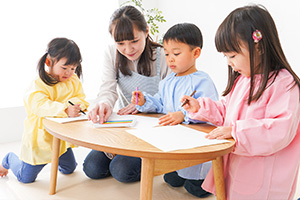 Nannies Rock : Inspired today by the longevity of the Beatles and the Rolling Stones as they release new music in 2023
However can we celebrate the incredible Nannies in our lives who also Rock On ? Today, this headline perfectly captures the spirit of these amazing Nannies: "Rock On!" These remarkable individuals have dedicated themselves to nurturing, guiding, and loving the children they care for.
Nannies, you are the unsung heroes of our families that you work for and with. You rock our world with your unwavering dedication, boundless energy, and unconditional love. You are the steady force that keeps households running smoothly, ensuring that all children in your care are safe, happy, healthy and thriving. Your impact on their lives is immeasurable, and we like the parents' are forever grateful for your presence.
Just like rockstars, Nannies possess a unique set of skills and qualities that set them apart. You have the ability to multitask like no other, effortlessly juggling the demands of childcare. You are masters of time management, always finding a way to make every minute count.
But it's not just about the practical skills; it's about the heart and soul you bring to your work. Nannies, you have an incredible capacity for love and compassion. You create a nurturing environment where children feel safe, supported, and encouraged to explore the world around them. Your patience knows no bounds, and your ability to listen and understand is truly remarkable.
In the face of challenges, Nannies, you never give up. You face tantrums, tears, and sleepless nights with unwavering strength and determination. You are the calm in the storm, the rock that children can always rely on. Your resilience is an inspiration to us all.
But let us not forget that even rockstars need a break. Nannies, it is crucial that you take care of yourselves too. Just as musicians need to recharge and rejuvenate, you must prioritize self-care. Take time to rest, pursue your passions, and nurture your own well-being. Remember, you cannot pour from an empty cup.
So, Nannies, as you continue on this incredible journey, I urge you to keep rocking on. Embrace the challenges, celebrate the victories, and never lose sight of the profound impact you have on the lives of the children you care for. Your dedication and love are shaping the future generation, and that is a legacy worth celebrating.
Keep shining your light, spreading your love, and making a difference in the lives of those you touch. You are the true rockstars, and we are forever grateful for everything you do.
Thank you, and rock on!