Australia's First International Nanny of the Year Finalist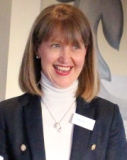 It's been a busy few months for Clare since she received our award last December. She has appeared on ABC radio, twice, and on Light FM, and she has been interviewed for articles in The Age, the Herald Sun, the Melbourne Weekly and even the Belfast Telegraph in Northern Ireland, from where she originates.
As part of her prize Clare travelled with myself and Rachelle Teycheney, our Operations Manager, to the conference in Los Angeles.
While the conference has a strong American focus, the delegates are very welcoming to anyone from elsewhere. Clare attracted extra attention as a first-time attendee and a Nanny of the Year nominee – not to mention being an Australian with an Irish accent!
Clare was amazed by the professionalism of the conference, noting that it ran like clockwork. "Obviously there was a lot of work put in by people behind the scenes," she said.
There were about 200 nannies at the conference as well as representation from a number of agencies (though sadly only ourselves from Australia). Prominent speakers included Dr Jenn Berman, celebrity psychotherapist, and Dr Harvey Karp, prominent expert in the care of newborns and toddlers. Over the two days there were 30 separate workshops to choose from, most of them grouped into three or four parallel sessions which made choosing very difficult!
Then there were the many corridor conversations and the lunches and dinners, including the Nanny of the Year Luncheon, at which Clare was on show as one of just four finalists. This year's winner was Sheri Lopez of Arizona, a veteran with over 30 years experience in child care.
One of Clare's take-aways from the conference was the strong sense of camaraderie. As she says, nannying can be a lonely job, and conferences like INA, as well as our own professional development days, are essential to overcoming this isolation.
After coming home, Clare is keen to encourage other nannies to nominate for the next Placement Solutions Nanny of the Year award.
"I never thought that when I started voluntary work with mothers and babies six years ago, then work as a nanny three years ago, that I would one day be going to America and having this amazing experience."
Clare says that the selection process she went through was thorough and took a bit of time, but by "chipping away at it" she was able to complete it without too much difficulty.
The end result, of course, was well worth it for her and for us.
We will continue to be involved in the INA conference and to try to build the profile and professionalism of nannies in Australia.
Louise
Date: 16-November-2019 @ 12:58 am
Rating: 0
Views: 0
Status:
Author:

Back to thread list
•
Go to previous thread
•
Go to next thread