INA Conference proves invaluable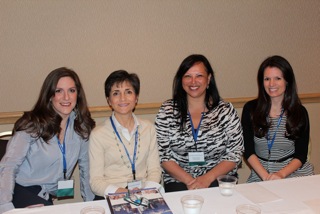 Rachelle writes...
"I recently attended the 2014 International Nanny Association (INA) conference held in Los Angeles. I was honoured to be asked on behalf of Placement Solutions to be a part of the expert panel directed for agencies regarding `Nailing the placement in 3 referrals'.
I was joined by 3 amazing women who shared their wealth of knowledge and experience in the industry. We spoke to 30 agency owners about the challenges and the triumphs of getting the placement right. To see and hear such a passionate and professional group of people was a real pleasure. The INA brings so many Agency owners, Nannies, Newborn Care Specialists and speakers to the conference to share, value add and educate the industry. It is such an invaluable experience."
Rachelle is pictured with other delegates:
Jami Dennis, Daryl Camarillo, Rachelle Teycheney & Ryan Jordan
Date: 23-January-2019 @ 7:54 pm
Rating: 0
Views: 0
Status:
Author:

Back to thread list
•
Go to previous thread
•
Go to next thread