Maribyrnong - 9.5 hours per week - Tues 3pm-7.30pm, Wed 4.45pm-7.45pm, Fri 3pm-6pm - 11yo, 5yo - START ASAP - ongoing
This family is looking for someone to help with thier after school needs.
The ideal Nanny/Educator will be providing quality childcare and supervision of these two lovely children. The role also includes; meal preparation, creating and following routines, age-appropriate activities, play-based learning and developmental play and also performing some child related houshold tasks.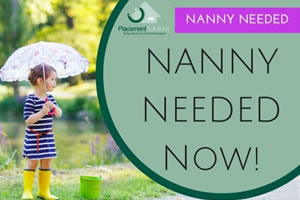 ---
Benefits for you:
Work for Australia's only world award winning Agency ( APNA 2018)
Legal employment with above award wages
Penatly rates where applicable
Overtime rates
Paid superannuation
Support & Guidance through the agency
Mentoring sessions with our best nannies
Regular professional development sessions.
You will have:
A minimum 3 years' full-time experience in the Childcare Industry working as a Nanny, Child Carer, Child Educator or in similar positions
Current Level 2 First Aid Certificate issued in Australia
Current Victorian Working With Children Check for Employees
National Police Clearance issued within 12 months in Australia
Permanent Australian residency or a valid working visa
Flexibility, commitment and a great work ethic
---
Placement Solutions are proudly recognised as Melbourne's most trusted Nanny Agency for over 33 years. We are a government approved In-Home Childcare Agency setting the industry benchmarks in childcare and providing quality service for families and nannies since 1988.