Archive for March 2015
Blog
Submitted by: marketing - 12-Mar-2015

If you want to be successful as a nanny, it's important that you are selective when choosing a placement family. Sure, you will rarely have endless choice, but by the same token it is not necessary, or wise, to take the first position that comes up.
The right decision could lead to long term work and the chance to really embed yourself as 'part of the family'. In contrast, a wrong decision could be stressful and disruptive for both you and the family you work for.
...
read more
Submitted by: marketing - 11-Mar-2015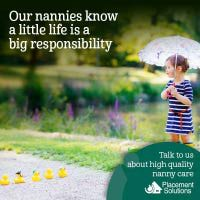 Top 10 Tips for a Successful Application to a Nanny Agency
So you've decided to try and get a job with a nannying agency. Perhaps you're just starting out, or you're tired of going it alone, or things aren't working out with your current agency. Either way, there are some basic things you can do to improve your chances of a successful application. Here are 10 things we like – and which, sadly, are often overlooked by applicants.
...
read more
Submitted by: marketing - 10-Mar-2015

7 Reasons to Nanny Through an Agency Rather than Going it Alone
If you were to believe the nannies portrayed in fiction, the job of the nanny is as simple as child control. A bit of well chosen discipline and everyone will happy, at least by the time the closing credits roll. Unfortunately in the real world things aren't so simple. The nanny's job can be demanding in a number of areas that go well beyond the actual job of caring for young children.
...
read more