Archive for February 2016
Blog
Submitted by: placementsol - 14-Feb-2016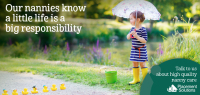 Did you know there is help out there for families going through crisis whether it is financial or medical? We are especially experienced in helping such families. Some people may receive funding offered by the government. Those families approved are allowed to access full child care funding to help them through a time of crisis.
...
read more
Submitted by: placementsol - 9-Feb-2016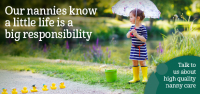 We have hit the road running to make this pilot work! We started our travel through regional Victoria to meet with high priority families that know exactly what they require for a nanny. We are also meeting with recruitment companies in each area to ensure they are on the lookout for some great nannies with our minimum recruitment requirements.
...
read more
Submitted by: placementsol - 8-Feb-2016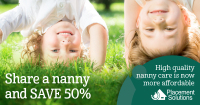 Nanny sharing is a great way to reduce the cost of in-home child care while adding some extra socialisation into your children's day. However it works best when it is approached in the right way. While Placement Solutions keep things 'clean' by invoicing each family separately, holding joint client liaison meetings and so on, there are a number of factors nanny-sharing families should bear in mind.
...
read more
Submitted by: placementsol - 8-Feb-2016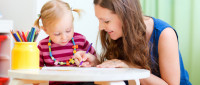 With the introduction of the Nanny Pilot Program by the Federal Government, Placement Solutions has recently been appointed as the sole provider for regional Victoria. The amount of recruitment we need to do has suddenly multiplied and poses new challenges. The very short-roll out period means we need to develop strategies quickly to ensure we manage this change and growth well.
...
read more
Submitted by: placementsol - 1-Feb-2016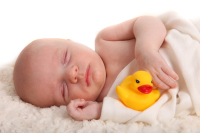 Okay. Let's clear the air before we start, because I can feel the heckles rising on the necks of every new and expectant mother reading this article. "What does Louise know about modern parenting?" I hear you saying. "She's a grandmother! Things have changed. They're different now."
...
read more