Archive for reso
Blog
Submitted: 5-Jun-2014
"Wot's in a name," she sez? Some common sense, please. Remember when 'human resources' was called 'personnel'? When 'team members' and 'associates' in department stores were called, simply, 'staff'? Over the years the names of many jobs have been changed in an attempt to improve perceptions of them. Sometimes these changes makes sense, but sometimes they do nothing but cause unnecessary confusion.
...
read more
Submitted: 3-Jun-2014
It was very refreshing to hear the two speakers at our first professional development seminar of the year, which we held last month. Both were down-to-earth and keen to bust some of the myths that have grown up around childcare. Our Melbourned based nannies at Placement Solutions are not just babysitters. We pride ouselves on the professional development we run and the quality of the nannies we attract as a consequence. Better nannies make for better quality childcare all round and the nanny services we offer across Melbourne are exemplary.
...
read more
Submitted: 6-May-2014
The Commission of Audit has recommended...
"the Child Care Rebate and Child Care Benefit be replaced with a single, means-tested payment reimbursing parents for a proportion of their child care costs".
...
read more
Submitted: 16-Apr-2014
Placement Solutions is proud to announce its latest and next professional development day for its highly valued carers.
...
read more
Submitted: 11-Apr-2014
The ABC program 7.30 recently discussed child care. The program focussed on the disincentives to return to work, the Productivity Commission inquiry into child care and the prospective review of the childcare payments system.
...
read more
Submitted: 8-Apr-2014

In a submission to the Productivity Commission the Grattan Institute has highlighted the Canadian child care tax and welfare system
...
read more
Submitted: 6-Apr-2014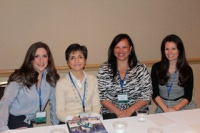 Placement Solutions Operations Manager Rachelle Teycheney reports on her recent participation in the International Nanny Association (INA) conference in Los Angeles.
...
read more
Submitted: 6-Apr-2014
The Age reports that childcare is "under valued, underpaid" in today's edition.
...
read more
Submitted: 4-Apr-2014
The International Nanny of the year was announced in Los Angeles recently.
...
read more
Submitted: 3-Apr-2014
Placement Solutions staff recently received training from the Child Wise organisation to help our staff identify and prevent child abuse.
...
read more