Blog
Submitted by: marketing - 11-Sep-2015
Read the latest childcare news, which was sent out in our September newsletter, here...
...
read more
Submitted by: marketing - 8-Sep-2015
Our Latest PD day on the 8 th of August was a great success.
Celebrated author and parenting expert Pinky Mckay spoke about tips for settling new babies and working with toddlers.
...
read more
Submitted by: marketing - 29-Jul-2015
David Wilson, the President of the Australian Home Childcare Association (AHCA), the peak body for the In-Home Childcare sector has called on the Government to adopt the In-Home Care National Standards for the Nanny Pilot Programme that will better ensure the safety and deliver better outcomes for children and nannies under Nanny Pilot Plan.
...
read more
Submitted by: marketing - 21-Jul-2015
I will soon become a grandmother for the first time – an exciting prospect. Like most expectant grandparents I look forward to being able to dote on my grandchild without having to take on the onerous responsibilities and sleeplessness of parenthood. I did feel well prepared, too – at least until my daughter, the mother-to-be, asked me whether I would attend a 'preparation for grandparenting' class with her.
...
read more
Submitted by: webideas - 21-Jul-2015
We are very proud to announce that we are the first nanny agency in Australia to have received full accreditation from Child Wise, the leading child protection advocates in the country. It has been an arduous process, two years in the making, and has included the writing of our Child Protection booklet (published in 2013), the dissection of our systems and processes and the training of all nannies at the Speak Up sessions of Professional Development.
...
read more
Submitted by: marketing - 12-Mar-2015

If you want to be successful as a nanny, it's important that you are selective when choosing a placement family. Sure, you will rarely have endless choice, but by the same token it is not necessary, or wise, to take the first position that comes up.
The right decision could lead to long term work and the chance to really embed yourself as 'part of the family'. In contrast, a wrong decision could be stressful and disruptive for both you and the family you work for.
...
read more
Submitted by: marketing - 11-Mar-2015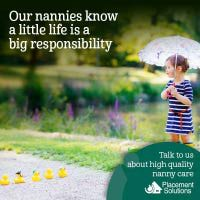 Top 10 Tips for a Successful Application to a Nanny Agency
So you've decided to try and get a job with a nannying agency. Perhaps you're just starting out, or you're tired of going it alone, or things aren't working out with your current agency. Either way, there are some basic things you can do to improve your chances of a successful application. Here are 10 things we like – and which, sadly, are often overlooked by applicants.
...
read more
Submitted by: marketing - 10-Mar-2015

7 Reasons to Nanny Through an Agency Rather than Going it Alone
If you were to believe the nannies portrayed in fiction, the job of the nanny is as simple as child control. A bit of well chosen discipline and everyone will happy, at least by the time the closing credits roll. Unfortunately in the real world things aren't so simple. The nanny's job can be demanding in a number of areas that go well beyond the actual job of caring for young children.
...
read more
Submitted by: marketing - 25-Nov-2014
I know I've written about this before, but the imminent report to government of the Productivity Commission inquiry into future options for child care and early childhood learning has had me thinking about the issue again: the problem of the 'underground' cash-in-hand in-home child care industry.
...
read more
Submitted by: placementsol - 18-Nov-2014
PLACEMENT SOLUTIONS NEWSLETTER – OCTOBER 2014
Reinventing the funding wheel is not the way to improve child care access.
Regular readers of this newsletter will be aware that we have been closely watching the Productivity Commission's Inquiry into Childcare and Early Child Learning. We have also made submissions to the inquiry and appeared before it. The Commission released an draft report earlier this year and will soon release its final report.
...
read more