Blog
Submitted by: placementsol - 26-Apr-2016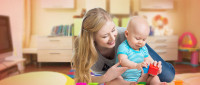 A recent post here about our household management service touched on the difference between a Nanny and a cleaner. More specifically, it made the point that a Nanny is not a cleaner and should not be expected to do general household cleaning or other household chores. The only exception are tasks that are associated with child care.
...
read more
Submitted by: placementsol - 26-Nov-2015
Quite a few of our nannies started their childcare careers in long-day care, and we are constantly fielding enquiries from long-day care workers who are interested in making the 'shift'.
With that in mind we thought it would be worthwhile exploring the pros and cons of nannying compared with long-day care. While working as a nanny provides a wonderful career for many, it isn't for everyone.
...
read more