Children
Submitted by: placementsol - 18-Apr-2016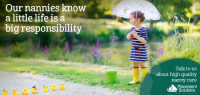 Here at Placement solutions we believe that a happy Nanny equates to happy children and a happy home. A nanny is not just a babysitter or a little bit of help to the family he or she is so much more than that. A Nanny is a mother's helper; they are the one-on-one care for your most precious assets while you need to be at work or other such commitments. A Nanny comes into your home to provide care and education for your children and to help keep them happy, healthy and safe.
...
read more
Submitted by: placementsol - 4-Jan-2016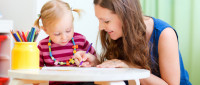 Not all parents can afford to go away for school holidays or maybe one parent can have time off from work but the other can't. Travelling with children can be difficult enough let alone trying to travel with the children without your partner. This being said you don't have to leave the kids feeling bored over the school holidays and that last thing you want is nagging children.

So if school holidays are spent at home then devise a list of activities that you can do with the children, this way you have a plan and the children will have something to look forward to, especially on the down days when they is no activity planned. You can't have an activity every day, money doesn't grow on trees.

To help you out we have developed a list of great holiday activities that can be done with children from different age's groups, especially if you have a toddler or school aged children.


...
read more
Submitted by: placementsol - 3-Nov-2015
Love your job and the fun that goes together with it when playing with the children, see them develop and grow?
Do they have a favourite toy? A favourite book? Naturally it is great to utilise the material provided by the parents. On the other hand bringing your own material is a great opportunity to introduce the children to something outside the box.
...
read more
Submitted by: placementsol - 1-Nov-2015
With stress management, awareness and mindfulness classes being introduced in many work places we thought it is time to share our passion for a well-balanced mind with you. Moving in a fast paced world can be challenging enough for grownups but just imagine how much more information children have to work through seeing and experiencing so many situations for the first time.
While of course it is necessary for every employee including every Nanny and indeed every person to find a way to deal with stress and increasing pressure for themselves it can also be fun to explore those strategies together with children and for them it is a good skill to learn early on.
But is it really necessary for children to learn tactics to deal with stress?
...
read more
Submitted by: marketing - 21-Jul-2015
I will soon become a grandmother for the first time – an exciting prospect. Like most expectant grandparents I look forward to being able to dote on my grandchild without having to take on the onerous responsibilities and sleeplessness of parenthood. I did feel well prepared, too – at least until my daughter, the mother-to-be, asked me whether I would attend a 'preparation for grandparenting' class with her.
...
read more
Submitted by: marketing - 27-Sep-2014
An issue Doctor G has seen many modern parents grapple with is resilience. It's so easy to do things for our kids these days, but that doesn't mean that we should. Building resilience often means kids not automatically getting things their own way – and unfortunately when in-home child care is involved, it can be the Nanny who bears the brunt of the push-back when this happens.
...
read more
Submitted by: marketing - 24-Sep-2014
I have to admit to feeling quite proud on August 9 when we launched our new Child Protection Policy and accompanying booklet. Institutional Responses to Child Sexual Abuse.
...
read more
Submitted by: louise - 2-Jul-2014
School holidays often provide an excellent opportunity for parents to spend quality time with their children… nevertheless everyone can also go a little stir-crazy!
With their years of experience in entertaining children all day, the nannies (in-home childcarers) at Government-approved agency Placement Solutions have put together their top twelve tips to make the most of school holidays in Melbourne, without going broke.
...
read more